uPVC tilt and turn windows
Trendy and versatile, uPVC tilt and turn windows do not just attach a functional value but also add a very classy look to your space. Since the tilt and turn windows come with a sash, it can tilt open at an angle from the top with the hinges fixed at the bottom or swing inwards with the hinges on the side.
Also, tilt and turn uPVC windows come with an efficient and easy to use multi lock system to prevent any break-ins. uPVC Tilt and turn  Windows, with their flexible opening offer excellent ventilation and sunlight, making it the perfect choice for your space.
With its innovative hinge system, tilt and turn windows offer added safety and convenience to the traditional casement window. They provide air circulation not only within the room but also brings a very classy look to your interior space.
The windows are incredibly easy to operate. In the 'Tilt Position' for instance, the top tilts into the room to provide enhanced ventilation. While in the 'Turn Position', the window opens inwards a full 90 degrees. This position permits the exterior of the window to be safely and easily cleaned from inside the house. This type of window is extremely popular with architects, designers and homeowners alike.
Along with their exceptional durability and energy efficiency & savings, you get to enhance the looks of your home, then Aparna venster uPVC Tilt & Turn windows are the way to go.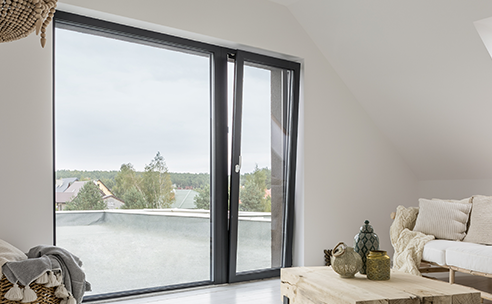 Features & Benefits
Offers maximum ventilation and quick cleaning
Energy saving design helps insulate the room against the heat
Tilt position allows fresh air and protection from rain
Self-extinguishable
Highly durable, designed to withstand extreme temperatures
Triple glass option for better insulation from noise pollution
Termite proof and corrosion resistant