uPVC sliding windows
uPVC Sliding Windows are fitted with nylon rollers in the bottom for swift horizontal movement. Very easy to operate, sliding windows are an ideal choice for apartments needing ample amount of ventilation. Also, since the sliding windows open horizontally you do not need to reach up high or bend down to open or close the windows.
It is important to understand that good air circulation and proper ventilation comes loaded with a good amount of health benefits. Did you know the air we breathe indoors can be just as polluted or more than outdoor air?
If the air inside doesn't move out, indoor pollutants such as germs, chemical gases, and particulates such as dust and pollen build up and impact the air quality. Outdoor pollutants like allergens are also drawn inside and cause asthma triggers.
What your home really requires is Aparna Venster Sliding windows. Its optimized frame to sash overlap of only 8 mm ensures tighter clasping capability, improving energy saving and avoiding pollutants, water and dust ingress. uPVC sliding window with grill will keep other pests out as well – such as insects and burglars.
The individual profiles and each and every component of Aparna Venster uPVC sliding window design adapts and achieves a wide range and types of sliding windows configurations. Offering versatility and for meeting all renovation requirements and new construction applications in residential and commercial buildings.
Switch to uPVC Sliding windows, achieve the miracle of a home that breathes, keeps the interiors fresh and cool, and transform your interior spaces into something that may be hard to imagine. Now opt for more styles and more sizes.
Features & Benefits
The horizontal sash movement ensures better ventilation
 Availability of multi-track and sash options to cover larger areas
 2 Chamber Sash / 4 Chamber Outer Frame – more chambers, more resistance to thermal conductivity
 Easy locking system
 Come in a variety of designs, colours and hardware options
 Best utilization of space since the sashes open left to right or vice versa
Air-tight, helps to keep- noise, dust, heat and pollution outside
Monsoon track for heavy rains, and hurricane bars for high wind loads
Sliding options to choose from:
Aparna Venster is the largest manufacturer of 2/3/4 track uPVC Sliding Windows. Along with the track of your choice, you can also customise the windows with the sash, mesh, grill and hardware of your choice.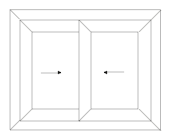 2 TRACK SLIDING WINDOW WITH/WITHOUT MESH/GRILL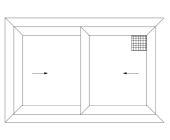 3 TRACK SLIDING WINDOW WITH/WITHOUT MESH/GRILL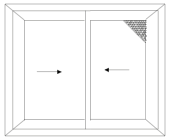 2.5 TRACK x 2 PANEL SLIDING WINDOW WITH MESH/GRILL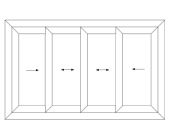 4 TRACK, 4 PANEL SLIDING WINDOW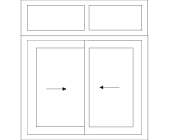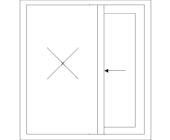 1 TRACK WITH INTERMEDIATE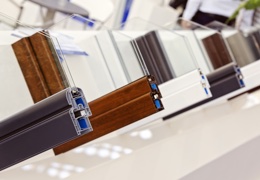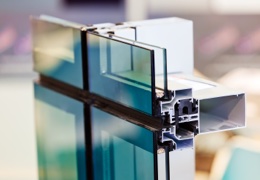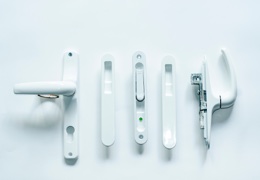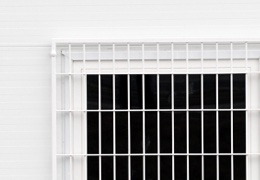 Experience the benefit yourself here
Frequently Asked Questions?
uPVC sliding windows are the easiest to operate. They comprise of 2 or more sashes with nylon rollers fitted at the base for swift movement of the sashes horizontally. They offer a wide view, excellent amount of ventilation and you do not need to reach high or bend to open/close them since they open horizontally.
uPVC sliding sash windows come in variety of styles, designs, colors and hardware options. They are air-tight, easy to use, provide great ventilation and are resistant to thermal conductivity. They are extremely robust and durable even in the most extreme weather conditions.
uPVC windows come in a variety of types/styles to suit your required needs. uPVC sliding windows are very popular and trendy in today's times, since they provide expansive views of the outdoors and are highly customizable. When looking for high-quality sliding windows, look for windows made from world-class technology and quality raw materials, as such windows will be high on performance and highly durable. Additionally, consider the customization options and the range of products/designs being offered to get the best of style and performance.