In 1835 Polyvinyl Chloride (PVC) was founded by a man called Henri Victor Regnault and many years later by Eugen Baumann. In 1935 PVC was first produced and it soon became widely manufactured as it has been for the past 50 years. It is a material that is a compound of carbon,chlorine and hydrogen and its elements come from a naturally occurring rare material in petroleum, natural gas and also sodium chloride (salt). Production of PVC begins with the extraction of chlorine gas from sodium chloride, obtained using electrolysis. After, ethylene is produced from a form of natural gas or petroleum which in simpler terms is known as cracking. If you react ethylene and chlorine it produces a compound called liquid vinyl chloride (VC) that is polymerised to create PVC.
Unplasticized polyvinyl chloride (uPVC) or rigid PVC is extensively used in the building and construction industry particularly in the United Kingdom, Ireland and the United States. It has a wide selection of applications from double glazing and uPVC conservatories to piping and plumbing. This kind of material is very robust and is known as low-maintenance which means it is resistant to chemicals, sunlight and water damage. With a variety of colours and finishes uPVC is produced with a lot of variety like finished photo effects that are a painted wood substitute for windows and frames, especially when you are fitting double glazing into your house. Cast iron which was traditionally used for plumbing and drainage for drainpipes, gutters, downspouts and wastepipes has been almost entirely replaced by uPVC.
uPVC Windows and Doors
The properties of uPVC make it ideal for both door and window applications. These properties include its ability to retain its shape within climate temperatures and unlike materials such as wood; uPVC does not rot or biologically decompose. Additionally, the compound can withstand knocks and impacts without fracturing, and can be reshaped through heat and thus recycled.
Because they are manufactured using a superior lead free compound and cutting-edge German machinery, Venster uPVC windows and doors have a lot of advantages, when compared to traditional materials like wood, steel, etc., and are perfectly suited for Indian homes.
During the extreme summer heat, Indian households see a steep surge in their AC power bills. But uPVC windows and doors come with multiple glazing options, which provide superior thermal insulation that keeps the indoors relatively cooler, thus reducing AC bills by up to 30%.
Indian homes also face a lot of noise pollution in the form of honking vehicles and construction noises, for example. High-quality uPVC windows and doors come with a unique double seal mechanism, designed to reduce outside noise by up to 40 decibels, making the indoors considerably noise-free.
uPVC windows and doors can also withstand strong winds and heavy rains since they come with hurricane bars, which are especially beneficial for people living in coastal areas and high-rise apartment buildings.
Perhaps the most standout benefit of uPVC is that it is extremely easy to maintain and does not require any painting, varnishing or polishing. High-quality uPVC windows and doors will retain their exquisite shine, colour, and lustre even after years of heavy use.
Types of uPVC Windows and Doors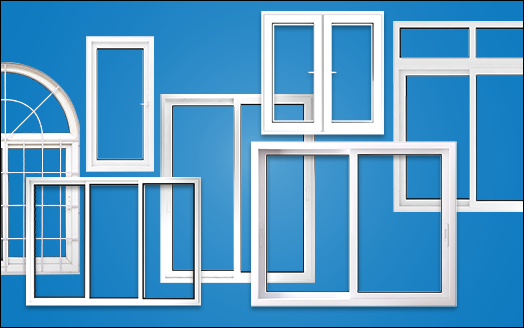 uPVC Sliding windows  – These windows are easy to operate, and are an ideal choice for apartments needing ample light and ventilation.
uPVC Casement windows – They are one of the most popular styles of uPVC windows, which offer unobstructed and attractive views of the outside world.
uPVC Arch windows – Manufactured with customized reinforcement, these windows are a break from the regular square and rectangle windows.
uPVC Combination windows – They are an integration of sliding, casement, and fixed windows. They can be customized as per your need and size requirement.
uPVC Tilt and Turn windows – These windows are trendy and versatile, and can tilt open at an angle from the top with the hinges fixed at the bottom or swing inwards with the hinges on the side.
uPVC Villa windows – They help in noise reduction and provide better heat insulation. They are also fitted with a multi-locking system to enhance security and safety.
uPVC Sliding doors – They comprise of two or more frames that can slide horizontally, to the left or right on tracks, making them very smooth to operate.
uPVC Casement doors – They are an ideal choice for homes that need large openings. They are extremely secure and insulated when closed.
uPVC Slide and fold doors – They are designed for maximum flexibility and come with a sash which gives you the choice to move it in either direction or stack them to one end.